À LA CARTE FLORAL - FAQS
Q. CAN I REQUEST A CUSTOM COLOUR PALETTE?

A. at this time, we offer five popular colour palettes. To the right are samples of three of our colour palettes on offer.
Q. CAN I REQUEST SPECIFIC FLOWERS?
A. For our À La Carte Floral, we use what is best and in season. If you would like a custom Bridal Bouquet or specific flowers used throughout your arrangements, please reach out to us directly, emailing us with inspiration pictures to receive a custom quote.
Q. CAN I REQUEST A TIMED DELIVERY?
A. Absolutely! To schedule a timed delivery, we need to obtain a quote from our courier. The delivery fee is determined by the size of your order, the address, and the window of time of delivery.

Please email us this information to obtain a quote for a timed delivery: HELLO@BOTANYFLOWERS.CA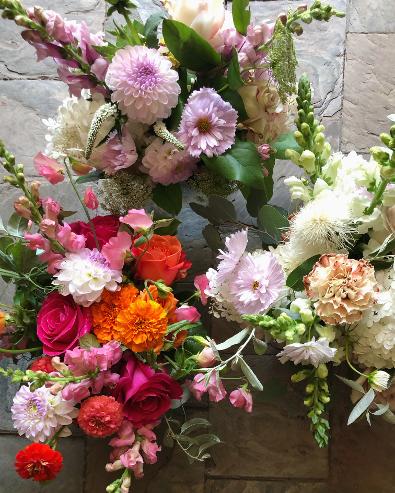 SHOWN SAMPLE COLOUR PALETTES:
Pale Pastels (Cream, Peach, Champagne, Blush)
Soft Pastels (Peach, Pink, Mauve, Cream)
Bright & Bold (Bright Pink, Coral, Orange, Peach)


Q. I PLACED MY ONLINE ORDER AND I SELECTED AND PAID FOR THE TORONTO DELIVERY FEE, BUT I HAVE A LARGER ORDER OR NEED A TIMED DELIVERY. WHAT NOW?

A. If you select and pay for a Toronto or GTA delivery, we will follow up with the balance owing for an order exceeding $250.00 or requested timed delivery.
Please Note: Any early morning delivery or timed delivery is subject to an additional charge, as our courier guarantees delivery between 11AM-6PM. Best to get a quote from us before placing your order!
Q. WHAT IS THE BEST WAY TO TRANSPORT MY FLOWERS?
A. If you opt to pickup your florals from our studio, make sure your vehicle is large enough to transport your order. We recommend that you do not transport flowers in the trunk of your vehicle, it is often too hot or too cold for flowers.

Q. WHAT ARE SOME TIPS TO STORING MY FLOWERS OVERNIGHT?
A. Many people opt for delivery or pickup the day before their wedding day. Store your flowers in the packaging and bouquets in vases with water to ensure hydration. Keep flowers in a cool, dim area.

Keep boutonnières, corsages, and flower crowns packaged and stored in your refrigerator overnight.