BOTANY FLOWER SUBSCRIPTIONS are for people who want to receive or offer flowers on a regular basis.
Order a subscription for yourself, your business, or as a gift. Our bouquets feature seasonal blooms artfully arranged and wrapped for delivery or pickup. Explore our Flower Collections and select a style and budget that suits your liking. We offer a discount of 15% off our subscriptions.
Subscriptions are set to a minimum of 4 orders, and all flowers vary based on season and availability. You choose the starting date and then create a routine of having flowers delivered weekly, monthly, or each season (every 12 weeks.)

Please feel free to either Contact Us to set-up your subscription or Order Online.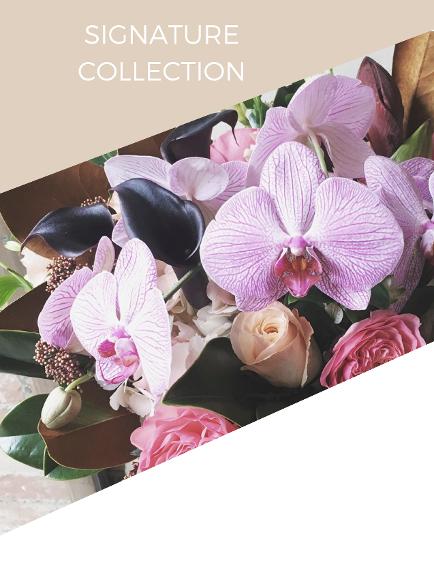 A collection to delight the most discerning flower enthusiast. These full and vibrant arrangements feature striking blooms, such as orchids, calla lilies and protea. All bouquets are hand-tied by a designer and wrapped for delivery or pickup.
Sizes + Values:

$120 | $135 | $150 per Delivery (including Toronto Delivery Fee)
DELIVERY OR IN-STORE PICKUP
Aside from in-store pickup, we offer daily delivery throughout Toronto & the GTA from Monday through to Saturday. If your order is scheduled on a Statutory Holiday, delivery will be made the next business day.
Business Delivery is guaranteed before 5PM and Residential Delivery before 6PM.
SUBSCRIPTION PRICING
All subscriptions are priced in groups of four individual flower orders, grouped together with a 4 order minimum. Create a one time subscription order, or
Contact Us
to make it ongoing.
There is a minimum of 4 orders to qualify for our 15% discount on subscription orders.
Prices include Toronto delivery fee to cover each shipment. For our Pickup Option, the delivery fees are waived. Delivery to the GTA is priced at an additional rate to cover the added distance.
BOTANY BOHO + MONOCHROME COLLECTION

SMALL - $95
LARGE - $125
SIGNATURE COLLECTION

SMALL - $120
MEDIUM - $135
LARGE - $150
ORCHID CLUB
DOUBLE PHALAENOPSIS - $90
TOTAL VALUE OF 4 DELIVERIES
SUBSCRIPTION PRICE (15% DISCOUNT)

Once your first 4 subscription orders are complete, you'll have the ability to
reorder your subscription at any time, or reach out to us and keep it going as long as you need.
MANAGE YOUR SUBSCRIPTION
Y
our subscription ends once the minimum of 4 orders have been met. We send automatic emailed reminders 3-4 days before your scheduled delivery.
If you're planning on skipping a shipment or pickup, you will need to give us notice of 48 hours or more to change your subscription schedule.

Please
email us
to do so, or if you have any questions about your recurring orders. We'll be happy to help!