BESPOKE + POP UP WORKSHOPS
BOTANY provides a relaxed atmosphere for hands-on workshops that are fun, personalized, and inspiring. All of the workshops use a profusion of beautiful seasonal flowers and plants with a focus on using an unusual mix of materials and an organic style. All materials are included in the session and everyone leaves with their fabulous creation!
Our workshops focus on an easy going approach to floristry and will include our various workshop themes. Join our
Mailing List
, where we will announce the dates and workshop titles as they are scheduled throughout the year.
We will be hosting in-person workshops again in 2023!

To register in a workshop,
Contact Us
or or simply book and pay for your spot in one of the workshops listed below.
Pre-payment of each spot is required. Each workshop spot is non-refundable. Register early, as limited spaces are available in each workshop.
We accommodate private workshops for corporate parties, product launches, birthdays, and bridal showers.
Interested in taking a workshop? Workshops are offered as the seasons change.
Sign up to our
Mailing List
and we'll email up-to-date workshop schedules to you.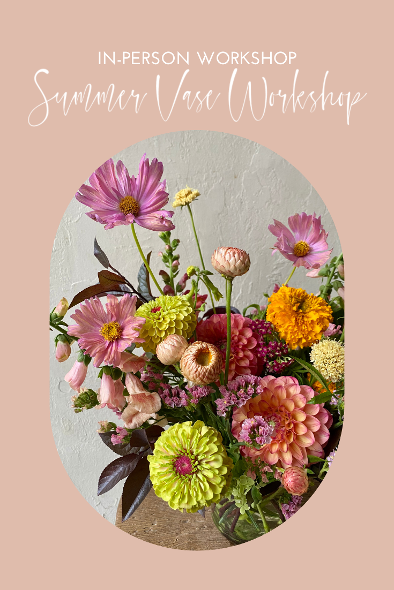 IN-PERSON SUMMER VASE WORKSHOP
Join us as we play with beautiful summer garden blooms! A designer will guide you with a demonstration showing how to create this lush display of dahlias, zinnias, cosmos, everlasting, scabiosa, garden filler flowers and foliage styled in glass vase. In this workshop, you will create a one-of-a-kind inspired garden vase arrangement with lots of seasonal and locally-grown blooms in a vibrant palette. Your unique creation is your own to take home.
Limited Capacity. This workshop will fill up quickly. Maximum of four participants.
Price: $225.00+HST
Duration: 90 Minute Workshop
Location: Botany Floral Studio, 626 College Street, Toronto M6G1B4
Date & Time: Thursday, August 17th from 6-7:30PM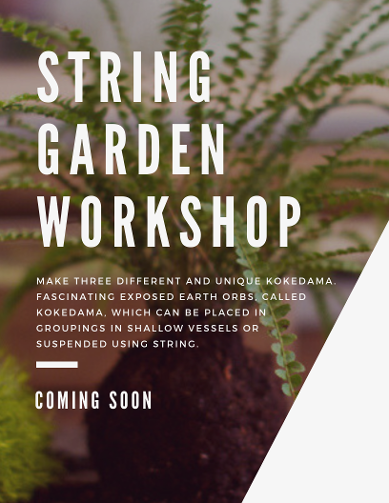 STRING GARDEN WORKSHOP

A type of bonsai, plants are fashioned into these fascinating exposed earth orbs, called Kokedama, which can be placed in groupings in shallow vessels or suspended using string. In this hands-on workshop, all planting materials and plants will be supplied and instruction will be given to make three different and unique Kokedama.

Price of Workshop: $100.00+HST
Duration: 60 Minute Workshop
Date & Time: TBD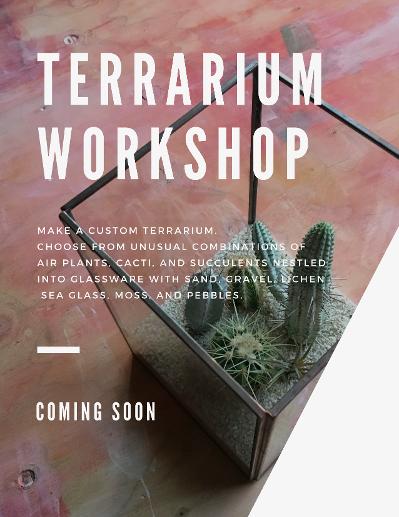 TERRARIUM WORKSHOP
Plants make us feel happier, calmer, more productive and more relaxed. #plantsmakepeoplehappy
In this hands-on workshop, all planting materials and plants will be supplied and instruction will be given to make a custom terrarium. Choose from unusual combinations of cacti, and succulents nestled into glassware with sand, gravel, lichen, sea glass, moss, and pebbles.
Price of Workshop: $85.00+HST
Duration: One Hour Workshop
Location: TBD
Date & Time: TBD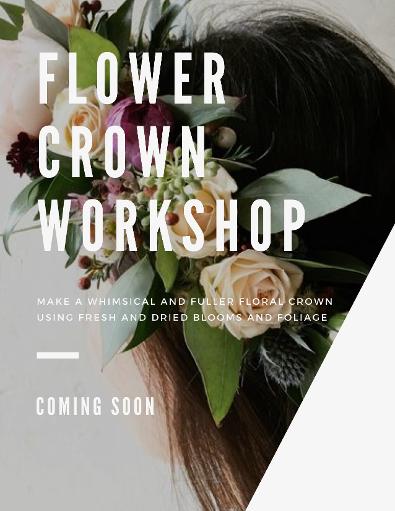 FLOWER CROWN WORKSHOP
The OG of wearing blossoms in your hair. Wearing pretty flowers in your hair makes for some serious #HairGoals — gotta get those likes! Plus, the scent alone will make it worth it. In this hands-on workshop, all materials will be supplied and instruction will be given to make a whimsical and fuller floral crown using fresh and dried blooms and foliage.
Price of Workshop: $100.00+HST
Duration: One Hour Workshop
Location: TBD
Date & Time: TBD